Hazard Functions – TreeAge Pro 2023 v2.0
Hazards Help You Better Define Disease Progression
Hazards are a fundamental representation of health event risk (i.e., progression, death).
Hazard Functions represents changing Hazard Rates over time.
TreeAge Pro allows you to visualize Hazards and Survival to accurately model disease progression.
Hazards can be used in all time-driven model types.

–> Markov event probabilities
–> Partitioned Survival Curves
–> Discrete Time-to-Event Distributions
Edit Hazard Rates over time in the and see the impact of changes to the resulting Survival Curve.
Match survival to Kaplan-Meier data and extend hazards and survival into the future.
Convert Survival Data to Hazards
Survival data for a critical health event is frequently available (progression, death, device failure, etc.).

But integrating survival data into different model types can be difficult.

Convert the survival data to a hazard table, which can then be used to model progression in PartSA, Markov and DES models.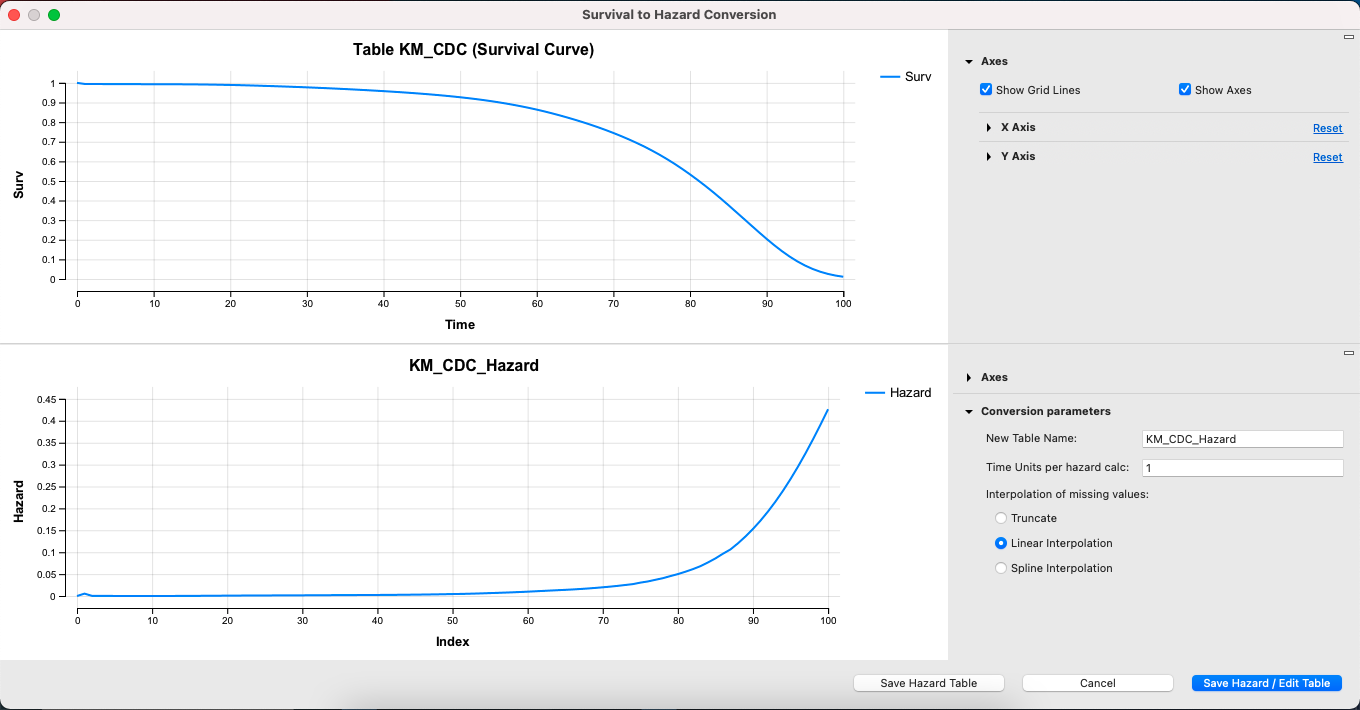 Use Hazards to Define Disease Progression
Health Risks Change
Hazard tables can represent event risk that changes over time.

Hazards Provide Flexibility
Use hazards in multiple model types.
Vary hazards with sensitivity analysis to study uncertainty.
Export Model Survival to Validate Risk
Generate survival curves from your model and export to a survival table.
Convert the survival table to hazards to examine the risk of death over time in your model.
Markov Models
Convert hazards to event probabilities for each cycle through a simple formula.
Partitioned Survival Models
Survival curves can be defined by hazard functions as well as survival functions.
Discrete Event Models
HazardTable distributions generate time-to-event samples based on the varying risk.
Please email support@treeage.com to request access to a beta installer including the Hazard Editor and related functionality.